10 Best iPhone Camera Apps You Should Use in 2019
Smartphone cameras, especially iPhones, have gotten a lot better over time. More specifically, the photos captured by the new iPhones like the iPhone XS and the iPhone XS Max are sometimes just as good as some of the best point-and-shoots. But if there's one thing which we wish was better, then it's got to be the iPhone camera app. The stock camera app that ships with all the iPhones and iPads, is very basic. It lacks even some basic features like the ability to let you change focus, exposure, etc. Well, if you are looking for some of the best iPhone camera apps then you've come to the right place. In this article, we'll be talking about some of the 10 best iPhone camera apps that will give you more fine-grained controls to capture the perfect shot.
Best iPhone Camera Apps You Should Try in 2019
1. Halide
Halide is one our favorite third-party camera apps. In fact, a lot of iPhones users here at Beebom use it as our primary camera app. It's one of those apps that ticks a lot of boxes. It offers manual controls, has a simple and easy-to-use interface, and a whole lot more. It also lets you do things like focus peaking, capture RAW images, capture depth info, etc.Halide is a well-designed app. Right from the typography to the yellow accents used to highlight the options, everything looks very elegant. It also a black background, that might remind you of the design of, say, a Leica camera. It also takes full advantage of the 'notch' area on the newer iPhones to show things like histogram and exposure compensation.
If you are an iPhone XR user, then you can use Halide to capture the depth info of a photo and use it to adjust depth-of-field in not just portrait shots, but any picture of your choice. Overall, Halide is a great third-party camera app, both for beginners and professional photographers alike. It's priced at $5.99, which is reasonable considering the fact that it includes all the features with no in-app purchases. For me this is one of the best if not the best iPhone camera apps that you can use right now.
Download Halide ($5.99)
2. 645 Pro Mk III
If you use DSLR cameras, then this app will make you feel right at home with your iPhone camera. The app comes with a DSLR-like interface, with all the knobs and switches you're used to. You can use multiple camera modes, such as auto, manual, portrait, etc. The app will also let you manually control the ISO values, and the shutter speed, so you can take photos exactly the way you want.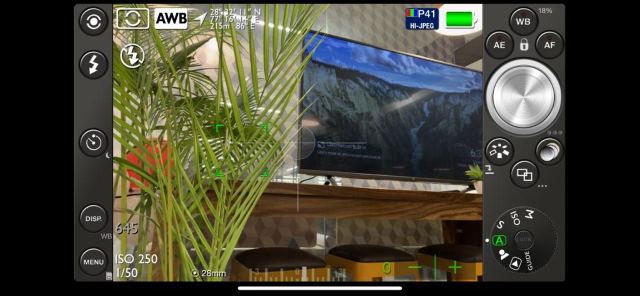 There are a number of filters, image ratios, and lens effects available that you can use to get the perfect shot, every time. The app also brings a plethora of custom settings that you can adjust to meet your needs. Things like Autofocus, White-balance, and exposure, can all be adjusted, and locked if you want. Also, the viewfinder in the app displays a ton of information about the image you'll be clicking, including the current ISO value, and shutter speed. You can toggle this information from being displayed, as well.
Overall, the app is definitely a very powerful camera app for the iPhone, and it will help you take some really great photos on your iPhone, if you know your way around a DSLR camera. As far as iPhone camera apps go, this one is right at the top.
Download 645 Pro Mk III ($3.99)
3. ProCam 6
If you are a technical enthusiast and know your way around professional cameras or Pro mode, then you might want to try ProCam 6. It's an excellent choice for a more advanced photography enthusiast. It has over seven shooting modes including Night mode, Burst mode, Slow Shutter, 3D photos and more. It also offers photo shutter release options like self-timer, anti-shake, interval, etc.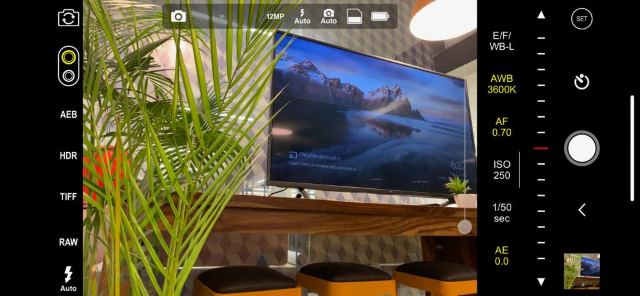 ProCam 6 also lets you shoot videos at up to 4K resolution at 48/ 50/ 60 fps (iPhone 8 and later) along with a bunch of manual controls. With ProCam 6, you can capture RAW (DNG) images with ease. It also supports Lossless TIFF file format and offers an intelligent 3-shot HDR.
Being one of the best iPhone camera apps ProCam 6 also includes a photo/ video editor for nondestructive editing with over 50 filters and comprehensive adjustment tools. So if you are looking for a third-party camera app with some great pro camera features, then ProCam 6 is absolutely worth checking out.
Download ProCam 6 ($5.99)
4. PureShot
PureShot is another app developed by the developer of 645 Pro Mk III. The app offers a similar DSLR interface. It comes with various settings, such as auto mode, manual mode, selfie mode, and more. You can use the Auto mode if you don't want to fiddle around with the settings that the app offers. However, manual mode is where you can actually harness the power of the app.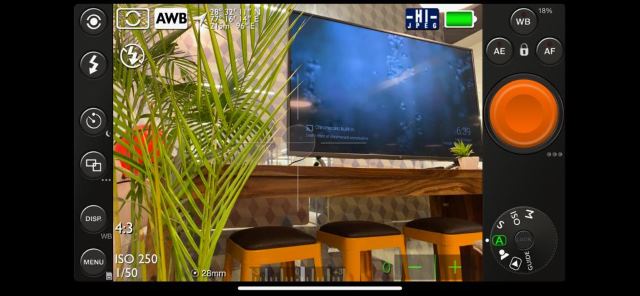 Unlike its more powerful counterpart, the 645 Pro Mk III, PureShot is meant solely for no-filter photography on the iPhone. It does not offer any of the multiple filters, and lenses that 645 Pro Mk III does, but it offers a similar, powerful DSLR interface that will allow you tweak almost every setting for your iPhone camera. The PureShot viewfinder displays a ton of information about the picture you're about to click, including the ISO value, exposure, as well as shutter speed. All these settings are manually controllable, so you can adjust them to your liking. The slow to fast shutter speeds offer limitless possibilities for the types of pictures you can take with the app.
Download PureShot ($2.99)
5. VSCO
VSCO is yet another popular app that's primarily known for its photo editing tools and filters. However, it's also one of the best free camera apps that you can use with your iPhone as it offers some granular controls like manual focus control, shutter speed, ISO, and more.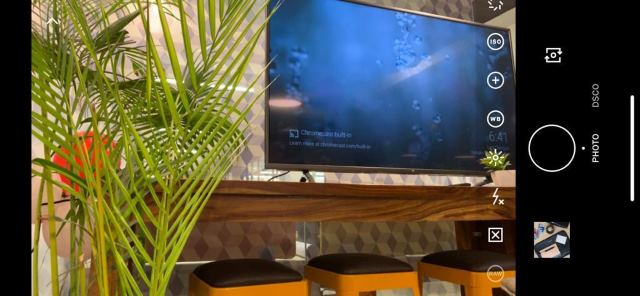 The VSCO camera itself is fairly simple to use. All the options can be accessed from the bottom of the screen and the adjustments are made using a simple slider. You can use the Shutter Speed slider to control the movements in your photos and create some stunning long exposure shots. You can also play with, say, the white balance to control how warm or cool your photos are.
Once you've captured your photos, you can edit them directly in the VSCO app and even share it with the VSCO community or save it to the gallery. Lastly, it's worth pointing out that you can shoot images in RAW format as well as standard JPEG. Unlike the other apps that we've listed so far, VSCO is available for free, so be sure to check it out.
Download VSCO (Free)
6. Adobe Lightroom CC
Adobe Lightroom, for the most part, is a picture editor. However, the built-in camera has some good features. With RAW support having arrived on iPhones, Lightroom can now let you click pictures in RAW format. This means that you have full control over the ISO, exposure, and other settings even after the picture has been taken. So, you get a lot of editing power later on.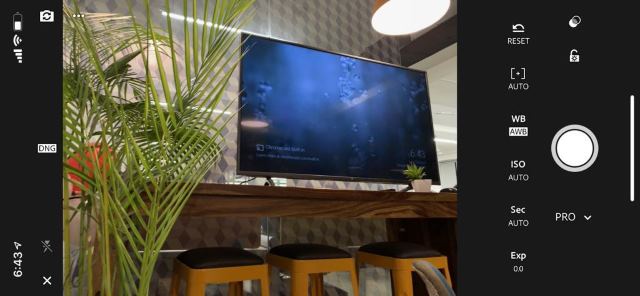 The app has a plethora of powerful editing features, to make the most out of the RAW images you take with it. The app allows for local adjustments, which means that you can change the exposure, brightness, and clarity for select regions in the image. Also, the app supports non-destructive editing, so you can play around with your image as much as you want, and easily revert back to the original, if you mess something up.
Download Adobe Lightroom (Free)
7. Camera+ 2
Another one of favorite iPhone camera apps of mine is the Camera+ 2, the updated version of the original Camera+ app, which is  a simple looking camera app that offers some advanced features. In terms of the features, the Camera+ 2 offers pretty much everything that you can expect from VSCO. The manual controls include the ability to change the shutter speed, ISO, white balance, exposure and more.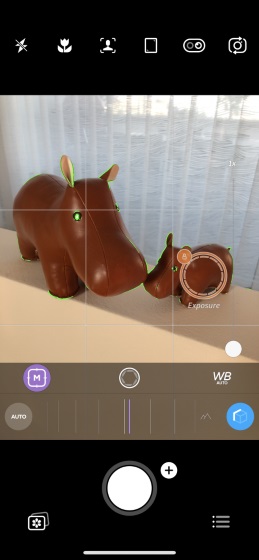 Additionally, the Camera+ 2 also offers some other shooting features such as Slow Shutter mode, Portrait mode, Macro mode, etc. Having modes like Slow Shutter mode is really handy as it lets you shot long exposure photo easily. Camera+ 2 also lets you control blur strength in portrait photos. This feature works with even works the older iPhones.
Download Camera+ 2 ($2.99)
8. Night Camera For Low Light Photos
Ever since Google introduced the new Night Sight camera mode, taking Night mode photographs are all the rage right now. The iPhones, however, offer no mode for night photography, which is why third-party cameras like Night Camera are gaining popularity.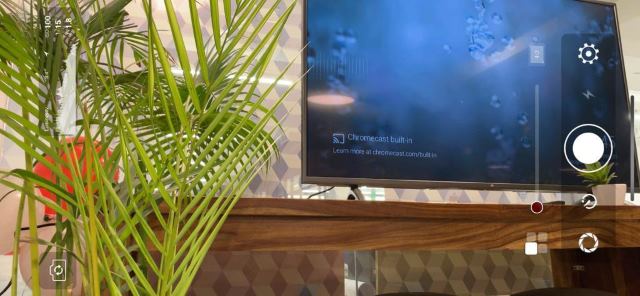 Night Camera offers a set of manual controls that let you tweak settings like exposure and ISO. You can also see things like luminance, luminosity and RGB histograms in real time that'll help you get an idea of over and underexposed parts of an image in real time. Other noteworthy features of the app include 6x digital live zoom, landscape and portrait mode, etc.
Download Night Camera (Free)
9. Obscura 2
Obscura 2 is yet another popular camera app for iPhone that offers an extensive set of customization options. The app lets you choose what happens when you single, double or triple-tap the viewfinder. Other options offered by Obscura 2, however, are fairly similar to what you get with apps like Halide. You can shoot RAW images, tweak photos settings like exposure, ISO, etc. in manual mode.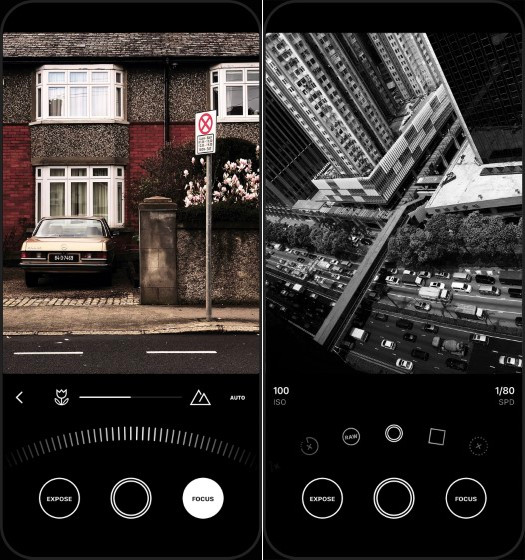 Download Obscura 2 ($4.99)
10. ProCamera
ProCamera., as the name suggests, is a third-party app for iPhone that lets you tweak a number of settings and get the perfect picture. The app has intuitive camera controls with which you can precisely control focus and exposure. Talking about 'Pro Controls', ProCamera. gives you controls that are similar to an advanced DSLR camera. You can set specific values for exposure time, ISO sensitivity, white balance, and more.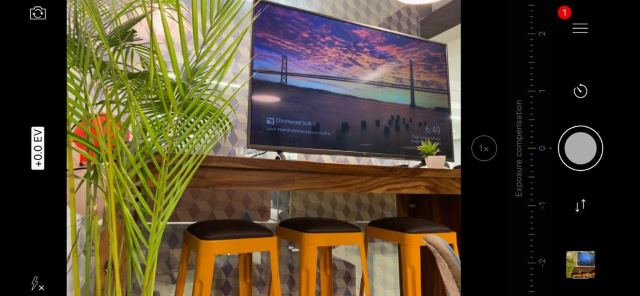 ProCamera. also lets you capture photos in Pro Mode by blurring the background of an image. This particular feature will work on all iPhones with dual lens. The app also lets you film videos in up to 4K resolution, and the frame rate options range from cinematic 24 fps to 240 fps for slow-mo videos.
In addition to offering pro-level options for capturing photos and videos, the app also lets you edit photos. It offers over 80 custom filters along with settings that'll let you customize the image as per your needs. Some highlight of the app includes a distraction-free Fullscreen mode, Apple Watch remote control, Gray card calibration, and more.
Download ProCamera. ($5.99)
SEE ALSO: 5 Best Browsers for macOS Users (2019)
Which Are Your Favorite Third-party iPhone camera Apps
Well, that wraps up our list of the 10 best third-party iPhone camera apps that you should try. Halide and ProCam 6 are our personal favorites, but you can also check out some free options like VSCO and Adobe Lightroom CC if you are not willing to shell out money for iPhone camera apps just yet. Also, if you think we missed any of your favorite iPhone camera apps then be sure to drop a comment down below.