Microsoft is all set to host a dedicated event on June 24 to release the next generation of Windows. Codenamed Sun Valley, we have seen a lot of potential features Microsoft is likely to introduce with the next iteration of Windows over the past few months. With the event right around the corner, you must be itching to know all about Windows 11. Will the next version of Windows actually be called Windows 11? Will you have to pay for Windows once again? We will discuss everything, including the Windows 11 name, release date, new features, and much more.
Windows 11: Everything We Know So Far (2021)
Windows 11: New Name?
In a surprising turn of events, it seems like Microsoft would call the upcoming Windows 10 Sun Valley (21H2) update "Windows 11", moving away from its previous stance of making Windows 10 the last version of the operating system. There are multiple hints that point towards Microsoft using this name for its next big update. The first hint comes from none other than Windows. As you can see in the event announcement tweet below, the Redmond giant chose not to add horizontal lines for shadows in the logo. The horizontal lines were present in a similar image the company posted to its Instagram in the past.
Join us June 24th at 11 am ET for the #MicrosoftEvent to see what's next. https://t.co/kSQYIDZSyi pic.twitter.com/Emb5GPHOf0

— Windows (@Windows) June 2, 2021
Moreover, Microsoft recently announced that it is ending Windows 10 support on October 14, 2025. The company updated its support life cycle page with the retirement date for Windows 10 over the weekend, as per reports. This is the first time Microsoft has ever mentioned end-of-support for Windows 10, making it a strong hint that Windows 11 might be on the way.
Another strong hint comes from reputable tipster Evan Blass. Blass took to Twitter to share a tweet hinting that the new update will indeed be called Windows 11. Check out that tweet below. Going by these, it's safe to assume that Microsoft would call the next update – Windows 11. We will learn the official name of the next Windows update when Microsoft unveils the OS on June 24, so stay tuned for more details.
From the "Don't take screenshots of this build" department: a forthcoming Microsoft OS called Windows 11.

— Evan Blass (@evleaks) June 3, 2021
Windows 11: Release Date
We could expect Microsoft to announce the release date of Windows 11 at its event next week. The event is scheduled for June 24 at 11:00 AM ET, which translates to 8:00 AM PT or 8:30 PM IST. Microsoft may release an Insider build soon after the event to give early adopters a taste of its next-gen desktop OS. We could expect a stable release sometime in October 2021.
Windows 11: Complete Timeline
In case you are curious about the availability of Windows 11, here's a complete timeline for the upcoming update:
Windows 11 Launch Date – Microsoft will announce the next Windows update, widely speculated to be Windows 11, on June 24.
Windows 11 Insider Preview Release Date – Microsoft could release Windows 11 for Insiders after the June event. Insiders in the Dev Channel will be the first to get a taste of the new design overhaul.
Windows 11 Stable Update Release Date – Microsoft usually rolls out the second Windows 10 update in October each year. We could expect the company to follow this approach and start rolling out the new version for all users in October.
Windows 11 Price: Will Windows 10 Users Get Free Windows 11 Upgrade?
If Microsoft proceeds to release Windows 11, the most important question would be – What happens to the existing Windows 10 users? Well, going by history, we could expect Microsoft to offer free upgrades for current Windows 10 users. For the specifics of this transition, we will have to wait for the Windows event later this month.
The Redmond giant adopted the Windows-as-a-service delivery method to reach more users and make it simpler to deploy the latest updates to everyone back in 2015. It offered free upgrades to Windows 10 for Windows 7 and Windows 8 users. This has enabled Microsoft to have over 1 billion active Windows 10 users around the world.
Windows 11: Top New Features
We recently wrote an article rounding up all the features you could expect from Windows 10 Sun Valley (21H2) update, which is now likely to arrive as Windows 11. You can check out that detailed article to know all the expected features in the update. Here, we will be highlighting the top Windows 11 features.
Redesigned Settings App
Microsoft is redesigning the Settings app with Windows 11. It should look somewhat much cleaner, like what you see in the image below. The screenshot here originates from an Italian tech blog (taken down now) and was reshared on Windows 10 subreddit. Take a look at it below: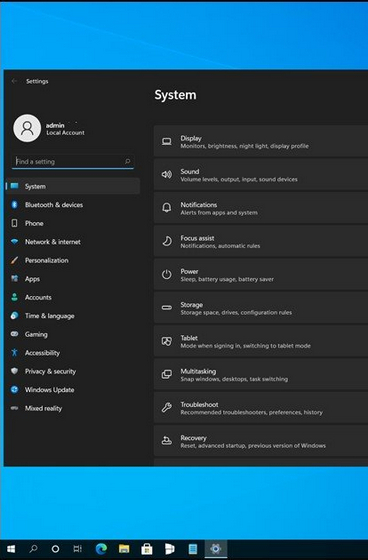 As you can see, Microsoft is tweaking the Settings app to include colorful icons for key options. Notably, Microsoft has placed all the main options towards the left of the app, which in turn acts as a sidebar. This way, you can quickly jump between the various Settings options without having to come back to the primary screen.
UI Revamp with Rounded Corners
As part of Microsoft's visual rejuvenation of Windows, the company will add rounded corners for UI components across the operating system. Microsoft may even implement a floating start menu, similar to the now-defunct Windows 10X, and we can't wait to try that out when Microsoft releases the first Insider build.
New Action Center
With Windows 10X, Microsoft redesigned the Action Center and improved its design and functionality. For instance, you don't have to open the Settings page to switch Wi-Fi networks or Bluetooth devices on Windows 10X. Instead, you can expand these menus without leaving the Action Center. That is a huge usability improvement, and now that Microsoft has officially canceled Windows 10X, we could expect a similar implementation on Windows 11. Meanwhile, go through our articles on the best Windows 10X features and check out our guide to run Windows 10X on your PC to explore the OS.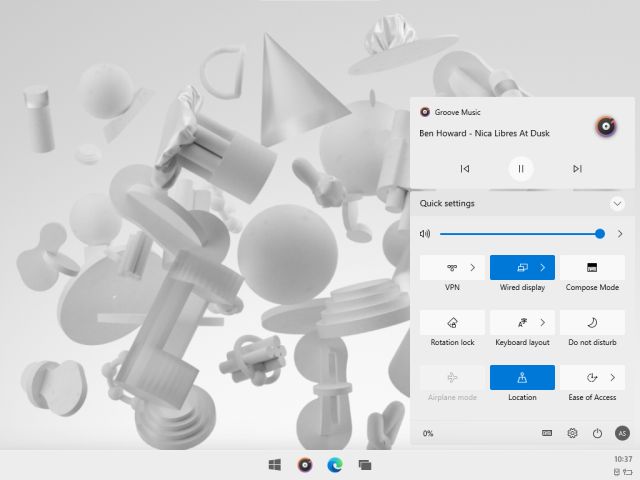 Coming to notifications, they will now stack in a separate section above the quick settings panel. Moreover, there will be a "Clear All" button to dismiss all pending notifications. Microsoft may even add a dashboard in the Task View to keep track of your Microsoft account and upcoming events.
Redesigned Microsoft Store
Microsoft refreshed the Xbox store in August last year and is preparing a refresh to the Microsoft Store. If a recent report from Windows Central is anything to go by, the new Microsoft Store will flaunt a modern interface and be more open to users and developers.
According to the report, the new Store will let developers submit unpacked Win32 apps, host apps & updates on their own content delivery network (CDN), and make it possible for developers to use third-party commerce platforms in apps. These are all exciting changes from a developer's perspective and should hopefully make Microsoft Store the one-stop destination for all apps.
Windows 11: The Future of Windows
So, that's all we know about Windows 11 ahead of the release. The announcement is merely a week away and we will learn all the new features at the upcoming event. At the moment, all the hints point towards a major revamp for Microsoft's desktop OS and a much-rumored Windows 11 moniker. We will have to wait and see if all the hype and anticipation results in increased adoption for Microsoft's new version of Windows or not. What are your expectations from Windows 11? Let us know in the comments below.