'Starship for the Mind': University of Florida Opens Malachowsky Hall, an Epicenter for AI and Data Science | NVIDIA Blog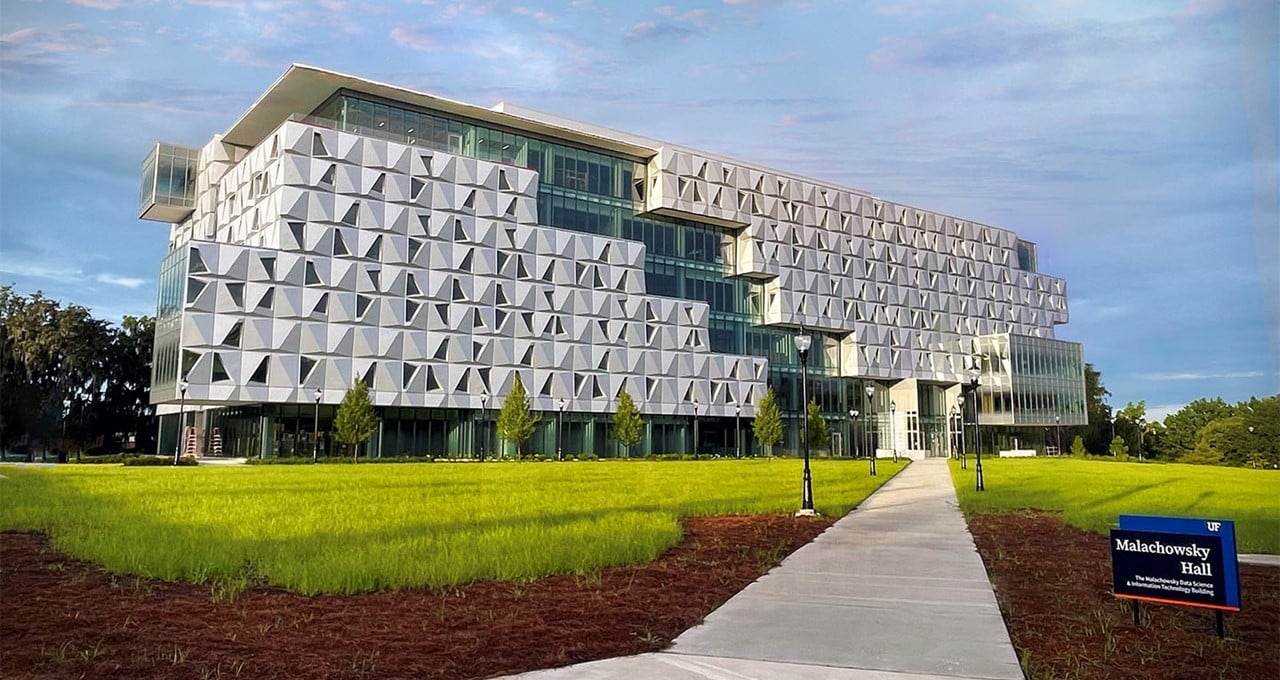 #Starship #Mind #University #Florida #Opens #Malachowsky #Hall #Epicenter #Data #Science #NVIDIA #Blog
Embodying the convergence of AI and academia, the University of Florida Friday inaugurated the Malachowsky Hall for Data Science & Information Technology.
The sleek, seven-story building is poised to play a pivotal role in UF's ongoing efforts to harness the transformative power of AI, reaffirming its stature as one of the nation's leading public universities.
Evoking Apple co-founder Steve Jobs' iconic description of a personal computer, NVIDIA's founder and CEO Jensen Huang described Malachowsky Hall — named for NVIDIA co-founder Chris Malachowsky — and the HiPerGator AI supercomputer it hosts as a "starship for knowledge discovery."
"Steve Jobs called (the PC) 'the bicycle of the mind,' a device that propels our thoughts further and faster," Huang said.
"What Chris Malachowsky has gifted this institution is nothing short of the 'starship of the mind' — a vehicle that promises to take our intellect to uncharted territories," Huang said.
The inauguration of the 260,000-square-foot structure marks a milestone in the partnership between UF alum Malachowsky, NVIDIA and the state of Florida — a collaboration that has propelled UF to the forefront of AI innovation.
Malachowsky and NVIDIA both made major contributions toward its construction, bolstered by a $110 million investment from the state of Florida.
Following the opening, Huang and UF's new president, Ben Sasse, met to discuss the impact of AI and data science across UF and beyond for students just starting their careers.
Sasse underscored the importance of adaptability in a rapidly changing world, telling the audience: "work in lots and lots of different organizations … because lifelong work in any one, not just firm, but any one industry is going to end in our lives. You're ultimately going to have to figure out how to reinvent yourselves at 30, 35, 40 and 45."
Huang offered students very different advice, recalling how he met his wife, Lori, who was in the audience, as an undergraduate. "Have a good pickup line … do you want to know the pickup line?" Huang asked, pausing a beat. "You want to see my homework?"
The spirit of Sasse and Huang's adaptable approach to career and personal development is embodied in Malachowsky Hall, designed to bring together people from academia and industry, research and government.
Packed with innovative collaboration spaces and labs, the hall features a spacious 400-seat auditorium, dedicated high-performance computing study spaces and a rooftop terrace that unveils panoramic campus vistas.
Sustainability is woven into its design, highlighted by energy-efficient systems and rainwater harvesting facilities.
Malachowsky Hall will serve as a conduit to bring the on-campus advances in AI to Florida's thriving economy, which continues to outpace the nation in jobs and GDP growth.
UF's efforts to bring AI and academia together, catalyzed by support from Malachowsky and NVIDIA, go far beyond Malachowsky Hall.
In 2020, UF announced that Malachowsky and NVIDIA together donated $50 million toward HiPerGator, one of the most powerful AI supercomputers in the country.
With additional state support, UF recently added more than 110 AI faculty members to the 300 already engaged in AI teaching and research.
As a result, UF extended AI-focused courses, workshops and projects across the university, enabling its 55,000 students to delve into AI and its interdisciplinary applications.
Friday's ribbon-cutting will open exciting new opportunities for the university, its students and the state of Florida to realize the potential of AI innovations across sectors.
Huang likened pursuing knowledge through AI to embarking on a "starship." "You've got to go as far as you can," he urged students.
For a deeper exploration of Malachowsky Hall and UF's groundbreaking AI initiatives, visit UF's website.